DIY distribution platform TuneCore has confirmed it has surpassed the milestone of paying out $2 billion in total to independent artists since its inception 15 years ago.
The company says that, likely boosted by rapid growth during the quarantine period, it now pays an average of $1.2 million in royalties a day to independent artists. That's a run rate of $438 million per year, or more than $100 million per quarter.
TuneCore says it has paid out half of the $2 billion figure in the past three years alone, after surpassing the $1 billion mark in artist royalties in July 2017.
The $2 billion figure is obviously a milestone for TuneCore's new US-based management team of Andreea Gleeson (Chief Revenue Officer) and Matt Barrington (Chief Operating Officer).
To date, more than one million independent artists have used TuneCore, and the company says "thousands" of them are now earning over $100,000 each a year through the distributor.
According to statistics recently announced by TuneCore, some $480 million of the $2 billion lifetime payout went to rap, hip-hop and R&B artists, and another $198 million went to artists. electronic/dance.
One particularly important thing to note about TuneCore is its business model: the company's standard fees require DIY artists to pay a one-time fee of $29.99 to upload an album to digital services like Spotify, Amazon Music and para. These artists then pay an additional $49.99 per album, per year after that point.
For single tracks, TuneCore charges $9.99 per year.
What this paid model means is that 100% of the $2 billion in royalties paid out by Believe-owned TuneCore has so far landed in artists' bank accounts, with no cuts from the service.
According to Gleeson, an additional qualification is necessary: ​​TuneCore pays 100% this side 100%, she explains, which means that behind the scenes, no B2B fulfillment partner ("middle man") takes a cut of the profits.
As a result, TuneCore artists benefit from landmark deals with digital services from Believe, the Paris-based global powerhouse in the indie sector that generated over $700 million in digital revenue last year.
---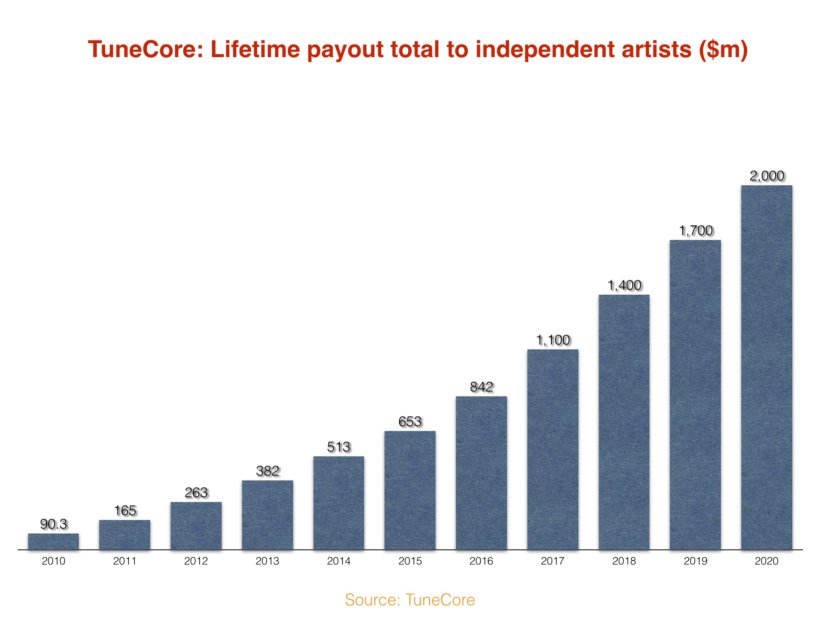 ---
Says Gleeson: "We're here to help artists connect and grow their audiences while maximizing their digital music revenue – that's our core mission. We show that independent artists can gain a huge fan base and make big money with TuneCore.
"We never use a middleman and pay 100% of 100% of store revenue directly to artists, unlike other distributors, many of whom claim to pay artists 100% of their revenue, but in fact are distributed by or affiliated with third parties. parties, who take a percentage on top.
"TuneCore empowers independent artists, now more than ever, to say F it and take control of their own careers; there is not much holding them back.
"Artists who use TuneCore make more money."

Andreea Gleeson, TuneCore
Speaking to MBW, Gleeson added: "We have direct partnerships with all the major platforms which means we are able to negotiate the best deals possible. [via Believe] for our artists.
"When we ask our artists, they tell us the #1 reason they use TuneCore is to get their music out into the world, and the #2 reason is to make money. And they know that artists who use TuneCore earn more money.
Together, TuneCore and parent company Believe claim to distribute around a third of the world's digital music.
According to MIDiA Research, independent artists generated $873 million in 2019, up 32% from 2018.
---
The TuneCore artist is Ken the Man who drove for Uber and delivered for Door Dash just a year ago.
After TuneCore distributes his song He is like, she was able to quit those jobs. She commented "He is like changed my life. I was writing songs between deliveries.
"I've known throughout my career that I always wanted my music to reflect all sides of me. I'm not trying to get any record deal where artists only get a small percentage and have to give up the rights to their own music. Why would I, when TuneCore pays me 100% of what I've earned?
"I can distribute when I want and what I want."
"I'm not trying to get any record deal where artists only get a small percentage and have to give up the rights to their own music. Why would I, when TuneCore pays me 100% of that What did I win?"

Ken the man
TuneCore's indie artists span all genres, with rap/hip-hop and R&B currently the biggest, with over $100 million streaming alone last year.
The company has established itself as a home for budding Hip-Hop artists and currently has over 200,000 Hip-Hop artists on the TuneCore roster with nearly 41,000 new Hip-Hop artists added so far in 2020.
"This is just the beginning, with many new artists turning to TuneCore every day."

Matt Barrington, TuneCore
Matt Barrington, COO of TuneCore, said, "Here's the thing: TuneCore artists have earned $2 billion, and that's just the beginning, with many new artists turning to TuneCore every day.
"It proves that giving artists control, allowing them true independence is a very powerful and positive thing. And it also disrupts the traditional model of the music industry.
Over the past six months, TuneCore has expanded its global operations to territories such as India, as well as Russia and Brazil.The music industry around the world