[ad_1]
Meet Equasta White, CEO of The Clarion Group. She is a rising star in the next generation of music executives and the subject of the latest team profile for independent music business group A2IM.
A2IM guest article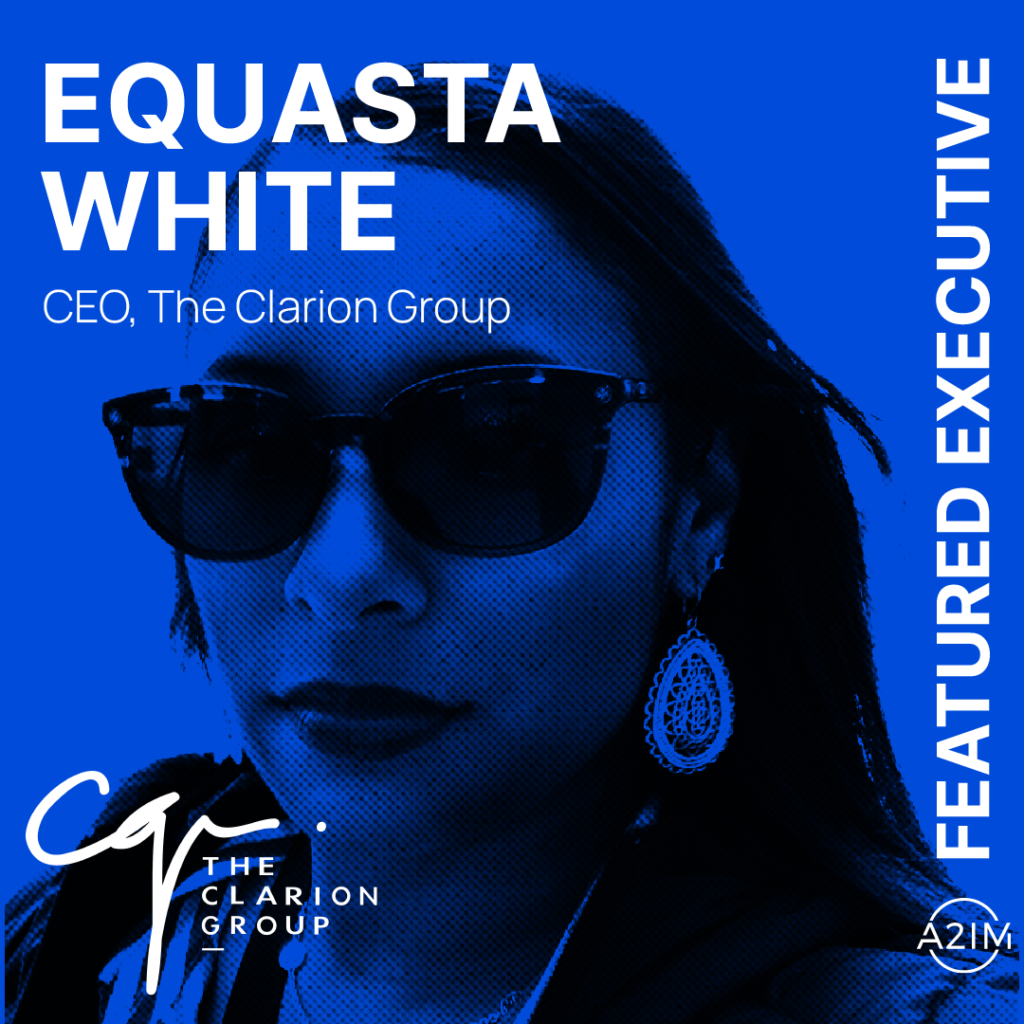 Equasta White has been in the artist / label management services industry for over 5 years. CEO of The Clarion Group, she is part of our first group of BIMA Fellows.
In addition to her work at The Clarion Group, she also works in the radio / promotions and marketing services industry with the Cincinnati-based company, I Hear Music, Inc.
Read more about Equasta's career below, and follow her on instagram, and Twitter, and the Clarion group on Twitter and Instagram.
Equasta uses his Bachelor of Psychology, Masters of Business Management and over 15 years of corporate experience to manage artists, client requests and business operations.
She is currently finishing her Music supervision certification of Berklee College of Music in Boston, MA. She is an active certified member of the Pragmatic Institute with formal training / experience in Project Management (Project Management Institute) and Six Sigma training / experience.
She is also a member of Women in Music, the global nonprofit organization for the advancement of women in the music industry, the Guild of Music Supervisors and the Dallas Film Makers Alliance. She also represents The Clarion Group as a research participant with The Open Music Initiative which is taken up by the Berklee College of Music.
Tell us a bit about your business, The Clarion Group!
The Clarion Group is based in Dallas, TX and focuses on management / consulting for artists / producers / composers and provides record label services. The Clarion group has been directly involved in the development and release of artist projects in the genres of Gospel and Hip Hop / Christian Rap and R & B / Rap / Hip-Hop / Latin.
I am also a product developer and event manager, whose skills are highly applicable in preparing artists to 'go to market', identify their niche fan base, and gain support from media, radio and influencers at home and abroad in an authentic way. and organically.
Are there any projects you are working on or company updates that you are most passionate about?
Our company is incredibly passionate about metadata, clean data analytics, and music technology innovation (e.g., AI, open API) in music. We noticed that there was a lack of attention to the importance of metadata and data encoding for independent artists, boutique labels that do not have a major label team overseeing their business operations. So we are launching Metadata dog. This is a new product / service for artists, composers and labels that essentially prepares them to monetize their music through proper data encoding.
Is there a career milestone or achievement that you are most proud of?
In the music industry, there are many unspoken rules and formats that artists must follow in order to stand out and gain the attention of fans and executives. Our company created a strategy that defied the rules and allowed a few of our artists to gain acceptance for their music in several genres that are generally not open to music outside of their norm.
It was also a milestone to see our artists gain significant fan engagement and organic growth in international markets based on the data and trend analytical research we have conducted across various music and social media platforms.
What else are you doing outside of work?
I love to travel abroad and study historical cultures, I am also a concert addict. I like to predict musical trends and album releases. I am obsessed with space travel, I watch reruns of The Office, King of The Hill, and Star Wars.
Would you like to add anything else?
Artists need to understand that musical outings / tours / performances alone will not produce a lasting and successful career. You need to diversify your skills and make sure you can work remotely or with others collaboratively in case you are unable to perform. Sometimes creators don't feel like creating or performing, but life goes on, so you need to be able to stay relevant with your other talents and gifts and incorporate them into your overall business strategy. If you need help with that, that's what our brand does, helping you plan for the future.
Do you or someone you know do the trick? Submit an executive here.
About A2IM:
A2IM is a 501 (c) (6) nonprofit business organization headquartered in New York City that exists to support and strengthen the independent recorded music industry. Members currently include a broad coalition of over 700 independent US music labels. A2IM represents the interests of these independent small and medium enterprises (SMEs) in the marketplace, in the media, on Capitol Hill and as part of the global music community. In doing so, it supports a key segment of the American creative class that represents America's diverse musical cultural heritage. Billboard magazine identified the independent music label sector as accounting for 37.32% of the US music industry recorded music sales market in 2016, on the basis of copyright ownership, making independent labels collectively the largest sector of the music industry.
Learn more about A2IM here and contact our team at [email protected] to register now

[ad_2]