The latest updates to the Local Live Performance Program Scheme (LLPPS) III
Mullingar soprano Helen Hassett returned to the stage on Saturday and Sunday evenings in the Mullingar Atrium alongside Greg Peters and Paddy Hassett to present her 'Summer Songs' concert.
The Atrium provided a fitting acoustic setting for this June concert and the audience was entertained with musical repertoire from classic Broadway debuts and musicals.
Other weekend events include the Brian Mac Band at the Dean Crowe Theatre, part of the three-part 'local music platform' series in the newly refurbished theater bar at the Athlone Theatre.
The final event in this series will take place on Thursday, June 23 – a performance by David Dockery.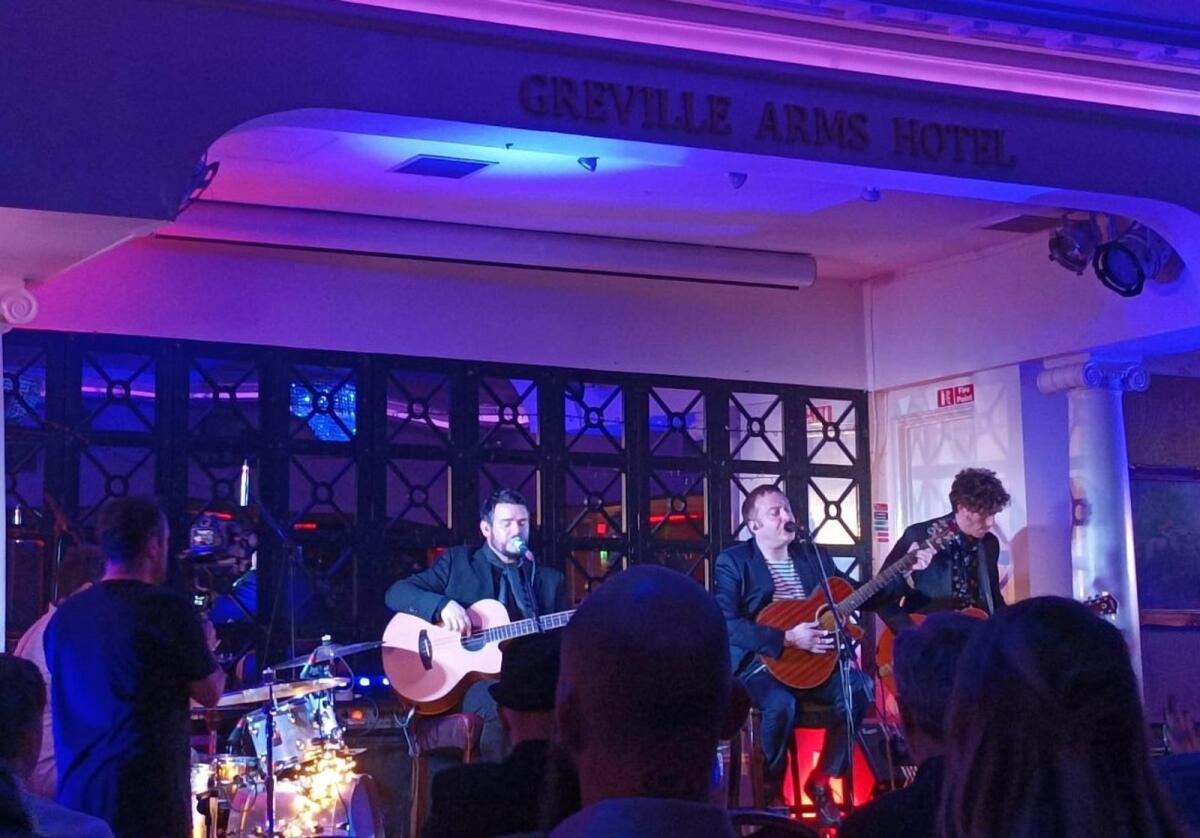 The rescheduled 'Cronin Unplugged' show took place at the Greville Arms Hotel, Mullingar on Friday evening. Cronin teamed up with violinist Oleg Ponomarev and cellist Anna Houston, and there was a special performance from Amy Quirke and Barra John MacGowan.
The Jealous Wall Storytelling event, hosted by Eimear Keating, last week, June 11, was a night of thrillers and horror stories told against the gothic backdrop of the famous Belvedere Wall.
The atmospheric and visceral music for the event was provided by Jennifer Moore of Dream Cycles and the stories were delivered by Daniel Egerton and Eimear Keating. After the narration, Keith Marshall of Mount Street's 3345 record store performed an uplifting DJ set. The authors of Jealous Wall Story; Augur by Isadora Epstein, Obedientia Civium by Avril Corroon, The Body by Anna Walsh, Mortar by Ronan Kenny.
In May, local musician-singer Dylan Neeson performed a series of acoustic music concerts in various Westmeath settings. Dylan entertained residents and visitors to nursing homes and accommodation in Athlone, Mullingar, Tyrrellspass, Killucan and Moate and proved popular with audiences in every setting while playing a varied program of music by Luke Kelly , Elvis, Roy Orbison and The Beatles alongside some modern Irish folk songs and songs.
The Local Live Performance Program Scheme has provided a variety of entertaining performances since its launch in April, ranging from classical, jazz, rock and indie music, to storytelling, dance and mobile music entertainment.
Project manager Kim Magee says there will be plenty of events taking place over the next two weeks to entertain Westmeath audiences – in Mullingar, Kilbeggan and Athlone.
Event organizers have worked hard to bring their events to the fore and are delighted with the support from Westmeath audiences throughout the programme.
Events to come
Musicfest by Mullingar Music Collective in The Stables, from today Monday, through June 25, featuring performances by; Dave Peyton + Band, The Skamm, Shake The Moon, Paulie Martin, Scustin, Good Stangers, Bobby and the Blunts, Scally Album Launch.
Cuige is a five-day arts, design and performance festival celebrating the artistic talents of the people of Westmeath.
There will be workshops and performances in the areas of yoga, music, design, art, dance and food. The festival takes place in the new art and design studio at 17-23 Dominick Street, Mullingar.
'Together We're Stronger', a fundraising concert by 'Ukrainians in Ireland' featuring Ukrainian musicians and friends takes place at the Arts Center on Saturday June 25 at 7pm.
Tickets cost €10 and are available on Eventbrite.
The concert is for the benefit of humanitarian and medical aid for Ukraine. It promises an entertaining evening with Jona Krauklys, the band 'Slava Ukraini', Sean Doran, Jurgita Cepkauske, Dmitry Kosinski, Slovega, Eimantas Didzbalis and special guest and honored artists from Ukraine Maryna Odolska.
'Tales and Tunes from the Towpath' reflecting the tranquility of the canal through creative performances that will include harpist Anita O'Brien; performance artist Paul Timoney; singer Eva Coyle; and singer and storyteller Noel O'Farrell, award-winning songwriter and event organizer.
The event takes place on Sunday June 26 at Coolnahay and at Nanny Quinn's.
Teen Aware takes place in Kilbeggan on Sunday 26th June with live music, DJs, food stalls and entertainment throughout the evening. Doors open at 4 p.m. and tickets must be purchased in advance.
Robert Mizzell's Nashville Songbook Concert will take place at the Mullingar Park Hotel on Tuesday, June 28. The evening's entertainment will include performances by The Country Kings, Matt Leavy, Noreen Rabbette and Kelan Browne.
The Sheerin Family Summer Shindig with Cliona Hagan, Ray Lynam, Dan Sheerin and the Sheerin Family is at The Lumber Shack, Kilbeggan at 9pm on Wednesday 29th June. Tickets must be purchased in advance.
The psychedelic pop family Dr Mindflip comes out of hibernation for an intimate performance of their brand new album How Are You Fixed? Expect sizzling synths, punchy basses, haunting harmonies, sultry sax and brain-melting beats, June 30 on The Stables.
For more event details visit social media including FB: Westmeath Local Live Performances.
Hours correct at time of writing.